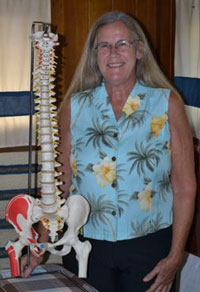 Julie Bacon is a leading North American instructor for the Onsen Techniques™, which is designed for treating pain and enhancing athletic performance. She also teaches classes in Circulatory Massage, a technique designed for increased circulation and deep relaxation, that she developed and taught at Brian Utting School of Massage for 16 years.
She regularly teaches classes in Seattle, WA, and when there is enough interest will arrange to teach in other cities.
Onsen Techniques® Classes
Julie has been practicing massage since 1975 and The Treatment of Pain™ known as Onsen Muscle Therapy™, Onsen Therapy™ or just plain Onsen®, has been her primary treatment tool since 1994. According to Julie, "It is the most effective method for relieving advanced, chronic pain, enhancing athletic performance, and maintaining general health."
The Onsen Techniques™ was developed by Rich Phaigh, DMT, LMT while working with world class athletes at Nike's Track West in Eugene, Oregon. It uses visual, palpatory & Range of Motion tests to assess skeletal alignment, and resisted and passive testing to identify the site & source of injury.
"When structural stress is the source of pain, the ONLY way to alleviate the pain is to correct the structure.  Often pain shows up far away from its cause and that is why structural analysis is vital.  If structure is not corrected and put in balance, every other method of treatment is simply palliative."  ~ Rich Phaigh
The Onsen Techniques® program is divided into four classes (Volumes). Each class is 18 hours long. See a description of each class below.
Circulatory Massage Class
Circulatory Massage is truly a massage with a purpose: systematic, deep, and vigorous, focusing on the return of used blood to the heart. See description below.
Classes Descriptions